I've always been rather passionate when it comes to clothes. Growing up, my outfits had to be just right, I was incredibly picky when shopping, and I used to go on impassioned rants about impractical aspects of garments I saw in the stores. One day, I decided to try and do something about it. Armed with a background in fine arts, illustration, and basic sewing from a childhood of quilting, I began to sew garments for myself that I couldn't find in the stores.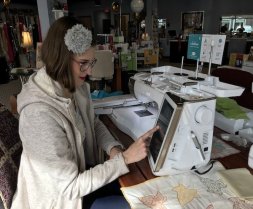 When the time came to start looking at colleges, it was clear that fashion was the way to go. During my time at Pratt Institute, I discovered my love of historical costume, taking inspiration from the past to inform my contemporary designs. I became taken with the idea of creating collections that told a story with garments. My infatuation with costuming only grew when I interned with the Washington National Opera's costume studio for a summer, and was exposed to the behind-the-scenes

workings of the Opera and the incredible works of art that are the costumes.