Skip Navigation
Website Accessibility
Click to see some of the creations made by Gail.
I am delighted to share with all of you my love for sewing. I started sewing over 50 years ago making small items like pillows and blankets for my dolls. In Junior High I took both the required semester of sewing as well as an advanced semester learning basic sewing skills along with basic tailoring techniques. After finishing those classes I was making most of my own clothes.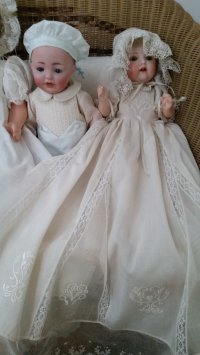 In High School I entered Stretch and Sew classes learning how to sew with knits. I continued my love for sewing acquiring additional intermediate to advanced sewing skills with knits. At this time I had obtained the ability and skills for me to start sewing for other people. I actually designed and made our school's Women's Volley Ball team uniforms.

Between my Freshman and Sophomore years in college I worked at a small bridal shop as a salesgirl and alterations assistant. I learned tremndous skills in alterations on formal gowns and how they are constructed.

I was also taught how to do some amazing techniques like encasing fishing line in a rolled hem to give the gowns a more striking hem.


In college I did alterations for friends and continued to sew most of my own clothing, including a business suit I wore to interviews after graduation. I graduated with a BS degree in Electrical Engineering which has served me well with the computerized machines and software that is now available.
In 1987, I saw my very first Baby Lock serger and announced to my husband "I need one of those!" With 2 little girls, I was sewing dresses all the time. The Baby Lock serger was an amazing machine and very intriguing. I loved how it could make the inside of a garment look as good as the outside, how easy it was to sew with knits, and the hems it could do! The serger did not come with classes, just a VHS tape. I had to drum up my courage and unthread the entire machine so I could really learn how to use it. Owning and using one of the first home sergers has really been a blessing. I learned so much about how and why things work or don't work. I will say though, I do love my Baby Lock Triumph and its air threading!!
During my almost 26 years living in Denver I taught machine usage classes on many machines from 3 different manufactures. I also taught the advanced computerized sewing machine classes. When embroidery machines came out for home use, I started teaching those classes as well as advanced embroidery techniques. My specialty was precise placement, which was much harder on those first machines. I love the newer embroidery machines and their wonderful firmware! When the embroidery and digitizing software came out, I jumped right in, using it as well as teaching it. I especially enjoy designing my own embroidery designs or quilt patterns, digitizing them, and then using them in my projects.

I not only taught machine classes, I took many classes from highly skilled seamstresses. With this advanced experience and acquired skills I continued to teach many classes from intermediate to advanced sewing. I taught heirloom sewing, pattern fitting, digitizing and embroidery software (2 different programs). Additionally I learned sewing feet, needles, accessories, mohair and pelt teddy bears construction, costuming, and embroidery stabilizers.

and embroidery stabilizers.
I taught special classes on all of the above and many other unique projects too. In addition I was a

Sew Fun

Club presenter for over 15 years. As a presenter we demonstrated notions, advanced techniques and made many projects from books and patterns that were passed around to be critiqued by over 380 attendees, most of whom were extremely accomplished seamstresses/quilters
themselves. Talk about having to hone your skills! Since we had to have a variety of projects, I not only enhanced my garment construction skills, I learned quilting (piecing, quilting in the hoop, and free motion), bag and purse making, hat making (millinery), digitizing software, and home decor sewing just to name a few.
Also during this time, I was the co-costume director for our local middle and high schools. For over a decade I designed and made hundreds of costumes for a wide range of musicals and plays. I also designed and constructed the attire for many local and competitive choir groups.



I continued to sew for people, mainly formal gowns. I also altered and made many bridal gowns that included embroidery and hand beading.

Now living here in Virginia I have been teaching basic sewing classes, specialty sewing classes (such as different seam techniques, installing professional zippers, heirloom, serger techniques, and appliques). I am teaching machine usage classes, project classes in sewing and serging, as well as Destiny Club and Embroidery club seminars and now, the new QESS club at Berger's Sewing Machine, LLC.


I look forward to sharing my experience and skills with all of you.